IEQAB AWARDS COMMITTEE IS HEREBY PLEASED TO ANNOUNCE THAT
Professor Dr. Dannyboy Pieterse has been awarded GLOBAL TOPPROFESSORSHIP AWARD OF RECOGNITION rated with 5 stars in the category : Specialist in Religious Education. Moreover, herewith we would like state that
Professor Dr. Dannyboy on merit, honored, ranked and attained global religious leadership status in Academia in many ways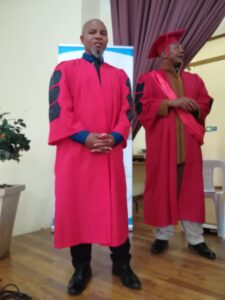 He is currently  operating Aacamia and religious activites in the All Nations Bible Institution & Projects from South Africa. Professor Dr. Dannyboy's latest Profile can be found at Latest Curriculum Vitae of Dannyboy Pieterse for more information (If necessary).
More brief about Prof. Dr. Dannyboy is given below:
Dannyboy Pieterse was the 6th child of Piet & Saartjie Pieterse born on 26 April 1969 in Robertson. When
he was 9 years, he experience a moment of death. "I remember me and friends went for a swim in the
nearby canal, I knew I could not swim but anyway dived into the water. While disappearing for some
time in the water I could clearly saw how my spirit left my body and look at the drowned body, blown up
with water. I was later informed that I was saved by my elder brother.
Growing up as a youngster not always having something to eat, I remembered when I was in grade 3 me
and a friend will plan our next meal at school during break times. I would tell him to target those pupils
having bread to start an argument, I will appear as the saviour of that pupil and because of my act of
bravery the pupil will offer me bread I will than share it with my friend.
Life was tuff, I started working as a garden boy in the houses of the white people at the age of 12 years
direct after school. I wanted to leave school at the age of 14 years, because I was earning money as a
garden boy. I reminded myself of my circumstances and that encourage me to complete school, thinking
how hard my father was working to provide for all 13 children and how tuff life was.
I was 15 years old, turning 16 in 1985 when I attended Langeberg Senior Secondary School in Robertson,
I became involved in school boycotts and was also a freedom fighter always in front of boycotts and was
part of the masses. During my secondary school years I also became involved in sports and church
activities. I knew when I finish school I won't be able to further my studies due to my circumstances and
my poor background. It was always my dream to become a lawyer.
After matric in 1990, Dannyboy Pieterse continued to work as a garden boy and in the same year he
applied to the South African Defence Force – Airforce to become a pilot. Because of the apartheid
system he did not succeed and was selected to become a fireman at the Ysterplaat Air force Base. After
basic training and basic fireman course in 1991 and a few month on the job as a fireman, Dannyboy
Pieterse resigned in the same year.
n 1992 he continue working on a farm as a general worker and applied to the South African Defence
Force, SA Army. Towards the end of December he received a mail from the SADF to report at the 9 SAI
BN in Eersterivier. After basic training and successful completing the section leader course and a few
months on the job in 1993 he resigned from the SADF.
I remember, when I was 17 years old a sister in my congregation told me. That the God is gonna bless
me and that one day I will earn lots of money. I could not understand but I was motivated what God is
about to do in my life".
With a few months on the job working as a general farm worker the farm owner saw potential in
Dannyboy and entered him to pursue furthering his studies the next year of January 1994 at Protea
College, Bellville Campus in the education stream of Marketing Management. During his time of
studying and staying in the "YMCA hostel in Athlone, Dannyboy made the best of an opportunity given
to him.
In October 1995, Department of Prison Services advertised vacancies to train prison guards. Dannyboy
Pieterse applied but were never informed of any interviews. In December 1995, Dannyboy hit back
home to Robertson for the Colleges/Universities holidays. Back homes he was informed by his younger
brother that there are interviews @ Voorberg Prison Services for Prison guards intake early in January
1996.
As a former marketing management student Dannyboy decided to attend the interview without being
invited. He dressed up and cut his hair like the former All Black rugby player Jono Lomu". At the
interview people were calling look, whose here "Jono Lomu" His effort did not carried weight to be
interviewed. All he needed was an opportunity.
Another interview session was held the next day at the same venue of Voorberg Prison Services and
Dannyboy Pieterse again dressed up like the former Jono Lomu in his Provincial Boland jacket achieved
in athletics, cross country. The same lady that could not found his name on the list the previous day",
allowed him an interview and it was all history, Dannyboy Pieterse was appointed on 07 February 1996
into the Department of Prison Services.
Dannyboy Pieterse married Janine Crystal Luitjies on 23 December 2000 of which he have 2 beautiful
daughters, Ashley Jordan Pieterse & Jaydon – Leigh Pieterse. In 2008 both daughters became very sick,
Ashley was diagnosed with anorexia and Jaydon Leigh with leukaemia. It was a very hard time for the
family and all Dannyboy depended on was the hand of God. Right through his journey he was encourage
by Abraham that God will provide. God indeed provided and healed both his children from the hand of
the death.
During his time as a prison warden, Dannyboy Pieterse became active involved in Politics and joined
both the African National Congress and the Fred Corniston SACP branch as a youth leader and later
joined the Independent Democrats and was elected as a Councillor for the City of Cape Town and served
on the Portfolio Committee of Human Resource in 2006, while still employed by Department of
Correctional Services. During his career as a Correctional Officer, Dannyboy Pieterse achieved different
Excellence Awards from both the Private Sector and Correctional Services.
Voluntary work done by Dannyboy Pieterse:
In 1997 Dannyboy received a certificate of merit for re – arrested an offender while off duty.
Since 1997 Dannyboy Pieterse never look back and performed service excellence and are really a
change officer for the Department of Correctional Services.
Dannyboy Pieterse registered the Masizakhe Computer Learning Centre to become the first
ICDL registered Centre in the World of all Correctional Centre's in February 2007. Base on the
stories written by Female offenders attended the first ICDL course which was piloted in a prison
facility, how ICDL change s their life. All the stories were submitted from to ICDL South Africa
to enter for the ECDL awards. The ICDL South Africa received the best practice awards in
September 2007 base on the stories written by Pollsmoor Female Correctional Centre.
The E-Literacy and life skills course was indorsed by the Department of Correctional Service
and Department of Communication and NICDAM as the Service Provider in June 2009 and
started in October 2011.
This course was piloted in the Western Cape Region. Dannyboy Pieterse coordinated the pilot
project for Pollsmoor Management Area, instead of 50 offenders participated he made sure 70
female offenders benefited from this project.
Graduation Day: 14 May 2012, Dannyboy was instrumental in making sure those offenders that
was released and still in custody attended the graduation ceremony as well as 2 families of each
offender.
Dannyboy successfully developed the Masizakhe Computer Learning Centre's own study
material, programme alignment and QMS Policies to prevent DCS to go into agreement with any
vender or the private sector, attached see report from MICT SETA.
The official has designed a curriculum for computer training. He has done several submission of
POE to MICTSETA, he attended various gap meetings/sessions he received the necessary
ODETDP training. He worked late (own time trying to compile a very thick documentation for
submission to the MICTSETA for accreditation. He went step by step per unit standard and
credits so that the accurate information required by the MICTSETA, for compliance purpose is
achieved. Because of his perseverance and commitment the Masizakhe Computer Learning
Centre was accredited on 07 August 2012. His afford is one of its kind. History was made when
the Masizakhe Computer Learning Centre became the first Computer Learning Centre in DCS.
The official is really a change agent. He trained many offenders with quality accredited training.
The official also ensures that when service providers present training they get more that the
expected target so that the Department of Correctional of Correctional Services can achieve its
goal.
Dannyboy Pieterse played a very important role in The Khoisan Nation Self Defence Unit
addressing the injustices of ex SACC members (South African Cape Corps) to integrate
into the South African National Defence Force. . He addressed the integration of former
Khoisan soldiers/SACC (South African Cape Corps) a crossed South Africa who was excluded
from the SANDF integration process, since 21 April 1994, and drafted a khoisan soldiers
integration bill of 2018 and submitted to the South African Parliament 07 December 2018, which
included members from the 7 former non statutory forces who did not integrate.
This official assisted to apply for the integration of former khoisan soldiers within the
SANDF(South African National Defence Force) since 30 July 2014 and was responsible for all
the research and compilation of documentation submitted to the President and the Portfolio
Committee on Defence and Military Veterans.
He requested the re – instatement of the integration intake bill of 2001 for all khoisan soldiers
nationally to integrate within the SANDF who were excluded from the integration process of
April 1994. Thanks to this official, because of him a delegation of the Khoisan Self Defence Unit
had a successful meeting on 10 March 2015 with the chairperson of the Portfolio Committee on
Defence and Military Veterans, Mr. Malusi Standley Motimele.
Because of him, the chairperson informed the Khoisan Self Defence Unit, that the integration of
the khoisan soldiers (Cape Corps) was long overdue and that a summary report will be release
before 30 April 2015 after they come from recess, that will outline the whole process regarding
integration of khoisan soldiers within the South African National Defence Force.
The Khoisan Self Defence Unit this official for outstanding service delivery and for going that
extra mile for all ex khoisan soldiers (Cape Corps) of this country who are the aboriginal people
of South Africa.
Thanks to this official for his confine work and making history for the government to meet the
Khoisan Self Defence Unit around the table, giving the Khoisan Self Defence Unit the platform
to register their concern. To crown everything this official used his own resources, money and
performed work voluntary
We honor him for his effort and priceless time, considering that he does this as a volunteer, and
for this we honor him and we are thankful to have had the pleasure of working with him thus far.
He also developed a website: www.knsdu.org.za for the world to know who the other
hero's/heroine of South Africa are and the role they played to liberate South Africa.
This is to confirm that Dannyboy Pieterse has used his acquired skills to serve underprivileged
communities since February 2018 to date. He has affectively achieved this by fulfilling his role
as a volunteer and bring change to the khoisan communities across South Africa.
Dannyboy played a vital role in the quality assurance of the Khoisan Aboriginal Security and
Projects being registered with SASSETA to provide the FETC in specialist security as well the
National Certificate in General Security and offered to train learners in security courses, end user
computing and communication skills. This gives the young adults and former soldiers a better
chance of being employed with the aim of preventing crime in the Western Cape and to be
trained as security officers. He also gave individual attention to our organization staff, difficult
youth and where guidance, assist and support are required. Until now it has been a great pleasure
to have Dannyboy present and available as an external member of the team. With the challenges
of unregistered churches within South Africa and unauthorised deeds perform by pastors. He also
assisted a pastor in Swellendam by registering his church as an NPO, registration was granted on
20 April 2018.
Until today All Nations Bible Institution is currently pending accreditation in South Africa from
the Council on Higher Education for programme accreditation June 2023 and he made sure that
All Nations Bible Institution & Projects is also quality assured globally. All Nations Bible
Institution & Projects is also registered with the Indian Government for Professional &
Vocational education and is members of South African Qualifications Authory accredited
Professional Bodies in South Africa and globally.
In 2023, Dannyboy Pieterse resigned from All Nations Bible Institution as one of the directors
and accepted a voluntary functional position as chief administration officer.
Dannyboy Pieterse was also appointed voluntary associate director for Africa, representing
National Theological Association based in India. Since his appointment, he assisted NTA to
become sufficient and recognise globally as and submitted articles for publication in the
newsletter of APQN – Asia Pacific Quality Network.
IEQAB Awards Committee also hereby officially confirmed and verified that the following certifiate bearing Number. 2023071400102  dated 14th July 2023 is authenticated and digitally certified by the IEQAB (International Education Quality Accreditation Body):